Professor H.A. Whitworth Named ASME Fellow
June 19, 2018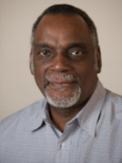 Professor of Mechanical Engineering H.A. Whitworth, Ph.D. has been elected Fellow of ASME (American Society of Mechanical Engineers) in July 2017. Dr. Whitworth was nominated by Mechanical Engineering Department Chair Nadir Yilmaz, with letters of support from academia, industry and national labs.
The ASME Committee of Past Presidents confers the Fellow grade of membership on worthy candidates to recognize their outstanding engineering achievements. Nominated by ASME Members and Fellows, an ASME Member has to have ten or more years of active practice and at least ten years of active corporate membership in ASME.
Dr. Whitworth is Professor and former Chair of the Department of Mechanical Engineering at Howard University. He is an exemplar in teaching, research and service and has a strong record as a mentor and motivator of students throughout his career at Howard University. Dr. Whitworth's research interest is in the area of fatigue and fracture of composite materials and he has contributed greatly to the development of mathematical models to evaluate the fatigue damage development in fibrous composites and has published extensively in refereed journals. In teaching, he has received numerous awards from Howard's ASME student chapter and has also been thesis advisor and/or served on thesis committees of many graduates from the Department. Dr. Whitworth has actively supported and encouraged student participation in various organizations such as ASME, AIAA, SWE and Engineers Without Borders campus chapters. He has also engaged in a number of activities to promote inclusion of underrepresented minorities and women in science and education.
Dr. Whitworth has had outstanding contributions to the Washington, D.C. Section of ASME and Regional ASME activities. His leadership is seen through his many years of service to both the D.C. Section first as a member of the Executive Committee and later as section officer in various positions. During his years of service, Dr. Whitworth served as secretary, treasurer, Vice-Chair, Chair and Executive Advisor to the Washington D.C. Section. He served as Vice-Chair from 2000-2002 and as section Chair from 2002-2004.
Founded in 1880 as the American Society of Mechanical Engineers, today's ASME is a 130,000-member professional organization focused on technical, educational and research issues of the engineering and technology community. ASME conducts one of the world's largest technical publishing operations, holds numerous technical conferences worldwide, and offers hundreds of professional development courses each year. ASME sets internationally recognized industrial and manufacturing codes and standards that enhance public safety.
Categories
Mechanical Engineering