Seniors Place Second in 2019 ACI Concrete Construction Competition
March 11, 2020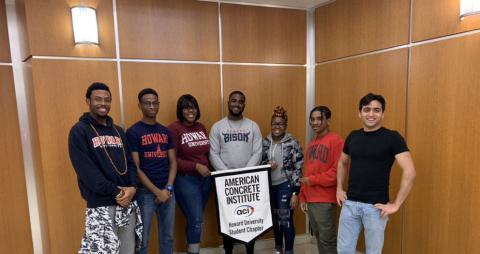 Civil and Environmental Engineering Seniors Travis Flowers, Grace Glenn, Darien Mercado, Binaya Paudel, Sigmund Skinner, Camille Wallace, and Alfred Wallfall placed second in the 2019 ACI Concrete Construction Competition, an international competition sponsored by the American Concrete Institute (ACI).
According to the ACI website, the concrete construction competition is open to all university, college and technical school undergraduate students in the United States and abroad. For the 2019 competition, teams were instructed to prepare a bid for the construction of concrete foundations for 124 lots in a subdivision in Pinal County, Arizona. Our team, or the Howard University (HU) team, is invited to present its winning solution at the 2020 ACI Concrete Convention and Exposition being held in Chicago, Illinois.
The HU team's advisor is Civil and Environmental Engineering Associate Professor Claudia Marin. Dr. Marin also teaches Reinforced Concrete, a course which includes competition participation as a part of the curriculum.
Team Lead Sigmund Skinner shared how frequently the team would meet in the Civil Engineering Computer Lab to break-down the RFP (request for proposal) and plan their approach to solving the problem. The team members found that the valuable experience and technical expertise gained from their internships in the construction industry enriched their contributions.
"This achievement came from the culmination of Dr. Marin's support and guidance, and the hard-work, willingness and diligence of the entire class. It is with great humility and joy that we set the standard for our Civil Engineering colleagues in our ACI-HU Chapter to maintain and elevate," says Skinner.
The team's proposal highlighted their conscious efforts to minimize the effects of construction and building on the local environment. The team took into consideration the climate associated with the project's region and selected the materials that would be best suited for the scope of work. Their proposal included details on all materials, labor, supervision, hoisting, expediting, engineering, equipment, erection, shoring, scaffolds, tools, and all other items required to furnish and install all cast-in-place concrete work, formwork and flatwork, and all other related work.
Civil and Environmental Engineering Department Chair and Associate Dean for Research and Graduate Studies Kimberly L. Jones, Ph.D. shares her sentiment: "I'm extremely proud of our civil engineering team for winning second place in this construction management and reinforced concrete challenge. The competition was stiff, with teams from all over the world. This is a great win for our students!"
Categories
Civil and Environmental Engineering