Sophomores Rutledge and Abraham Publish in Peer-Reviewed Scientific Journal Diamond and Related Materials
December 17, 2020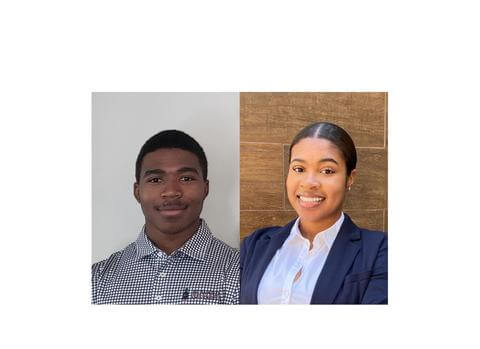 Civil and Environmental Engineering Sophomores Jade Rutledge and Brandon Abraham recently published a paper titled "Mechanical Properties of C3N Nanotubes" in the peer-reviewed scientific journal in materials science Diamond and Related Materials. Rutledge and Abraham worked in collaboration with Civil and Environmental Engineering Ph.D. student Hamid Ghasemi under the mentorship of Civil and Environmental Engineering Assistant Professor Hessam Yazdani, Ph.D. Rutledge and Abraham joined Dr. Yazdani's research lab SIGMa in October 2019 as participants in the I-RISE program, which is led by Mechanical Engineering Professor Mohsen Mosleh and sponsored by the U.S. Department of Education Minority Science and Engineering Improvement Program.
Their research work involved testing graphene using C3N nanotubes. Practical applications of this research include the development of graphene batteries, which are less harmful to the environment and potentially last longer than lithium-ion batteries of the same size with higher conductivity and durability. There are also potential applications for graphene in improving hospital technology, such as MRI technology.
Rutledge also published a paper during her freshman year titled "Mechanical properties of defective cyanoethynyl (2D polyaniline – C3N): A comparative molecular dynamics study versus graphene and hexagonal boron nitride," also in collaboration with Ph.D. student Hamid Ghasemi. With the experience she gained from writing and publishing her first research paper, Rutledge was able to provide guidance to Abraham as they worked together. This paper is Abraham's first of many published papers.
This topic was of particular interest to Abraham "because this topic has not been researched that much and there is so much to learn about it," he says. Abraham found it helpful to ask any questions that came to mind to help with his progress. It was helpful to have mentors and advisors to guide him through the process. He mentions that the most challenging part of writing the research paper was to minimize the technical jargon. "Using the most appropriate language, explaining our research findings thoroughly, and keeping our paper relatable were key to our success," he adds.
Categories
Research and Civil and Environmental Engineering