Student Speaker Melissa Douglas Receives 2020 BEYA Student Leadership Award
May 15, 2020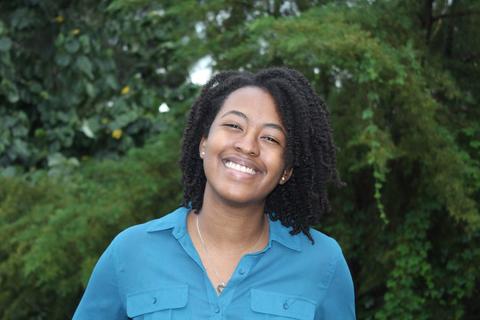 Melissa Douglas, a 2020 mechanical engineering graduate, will serve as the student speaker for the 2020 College of Engineering and Architecture (CEA) Awards and Recognition Ceremony. This spring, Douglas received a 2020 BEYA Student Leadership Award for her outstanding leadership as president of both the DC Alpha Chapter of Tau Beta Pi, the national engineering honor society, and the Howard University chapter of the American Society of Mechanical Engineers. She was also recognized for her leadership role for Howard University Ambassadors of Engineering (HUAOE), in which she effectively helped prepare underrepresented middle school students in STEM subjects with the goal to help diversify STEM fields and bring recognition to STEM talent in lower-income areas. HUAOE engages undergraduate engineering students in outreach to K-12 and the general public, and the promotion of careers in engineering.
In her role as president of the DC Alpha Chapter of Tau Beta Pi, Douglas successfully represented Howard University as an invited speaker at the Tau Beta Pi 2019 Convention in Columbus, Ohio. Douglas has also led recycling initiatives for campus housing in her role as Director of Internal Affairs for the Residence Life Green Team. With notable experience from her student leadership positions at the departmental, college and university levels, Douglas explains that success in leadership roles relies on good support systems from within the organization. "I couldn't have done it without my e-board," she comments.
Douglas' academic record is just as impressive. Douglas was named a CEA Mechanical Engineering Outstanding Senior for her continued academic excellence, for which she received several merit-based scholarships while at Howard University, including most recently being named a 2019-2020 Tau Beta Pi Scholar.
A native of Kingston, Jamaica, Douglas was born into a family of medical doctors. Douglas' parents were always supportive of her finding her own path and never pressured her to follow their path. "Do whatever you love and do it well," was their advice. Douglas always enjoyed math and science, but it wasn't until the summer before her last year of high school that she discovered her love for engineering. Douglas attended the Student Program for Innovation in Science and Technology (SPISE) at the University of West Indies, Barbados, where she was introduced to engineering concepts, the standard Chinese language, and college-level math. During the SPISE summer program, Douglas designed and built her first fully functional robot and then decided she wanted to become an engineer. She wanted to "help people by making things and having fun while doing it!"
Douglas' passion for designing and building robots led to her winning first place at the 2018 Autodesk Design Slam Competition in Las Vegas. Douglas participated in the Fusion 360 slam with her teammate Shoko Kwata, an industrial engineering and design student from Japan, as the first all-women team to not only compete, but also take the win. Douglas has also served as an Autodesk Student Ambassador. As a student ambassador, she helped train students in CAD/CAM/CAE and generative design to prepare them for certification exams in the software.
And her best advice?
"Stay organized and remember that procrastinating only makes it harder to accomplish tasks. Know your limits. Establish a support system. Don't give up. There is always someone out there who is willing to help and provide support. And accepting that help doesn't make you weak or any less capable. It helps you achieve balance," shares Douglas.
Douglas graduated with honors this spring and will begin her position as a mechanical engineer for Microsoft this summer.
Categories
Alumni and Mechanical Engineering