Thomas Brings Home a Win from 2018 Annual AIChE Meeting
December 10, 2018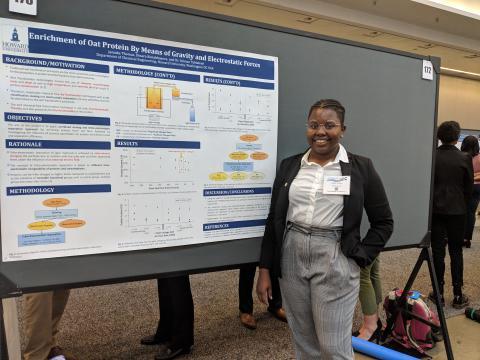 Chemical Engineering Junior Jamaka Thomas won second place in the Food, Pharmaceutical and Biotechnology category at the 2018 Annual AIChE Meeting for her research submission titled: "Enrichment of Oat Protein by Means of Gravity and Electrostatic Forces." Thomas co-authored her submission with Chemical Engineering Graduate Student Dinara Konakbayeva. Every year, over 300 undergraduate chemical engineering students present their research projects at the Annual AIChE Meeting in various areas of chemical engineering.
Chemical Engineering Assistant Professor Solmaz Tabtabaei mentors both Thomas and Konakbayeva. Thomas showed interest in joining Dr. Tabtabaei's Bioprocess Engineering Lab at the beginning of the semester to work on a research project related to the development of a dry fractionation approach to enrich proteins of agro-materials. Thomas immediately grasped all the fundamental concepts and began contributing.
Dr. Tabtabaei was selected as the co-chair of the "Fluid Particle Separation in Industrial and Environmental Systems (02F03)" program at the AIChE Annual Meeting, and in this position invited speakers to the conference, reviewed submitted abstracts and coordinated presentations.
Dr. Tabtabaei also presented her paper, co-authored with Konakboyeva, titled: "Simultaneous Separation of Protein and Starch Particles in Oat Flour via Dry Fractionation Approaches."
Congratulations to all!
Categories
Research and Chemical Engineering