U.S. Transportation Secretary Gets Inside View on Tech Education at Howard University
April 19, 2023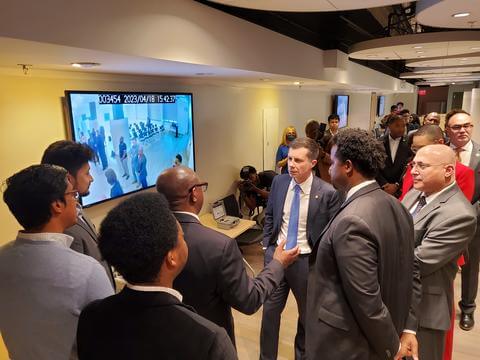 From The Dig:
On Tuesday, U.S. Department of Transportation Secretary Pete Buttigieg toured Howard University, where he visited with middle school students, Howard University students, and was briefed on the University's expanding research footprint in transportation.
At the College of Engineering and Architecture, Buttigieg participated in meetings with students and faculty. They put the spotlight on the Howard University Transportation Center, which recently received a $10 million grant from the Department of Transportation. Afterward, Buttigieg met with Howard University President Wayne A. I. Frederick.  
Dr. Frederick said Howard University would remain committed to outreach efforts to promote STEM education while also advancing applied research and providing solutions for policymakers, industry, and the public. The goal of Howard's transportation research, he said, was to help save lives, reduce traffic crashes, and benefit the entire community.  
Secretary Buttigieg began his day on campus with a stop at the Howard University Middle School of Mathematics and Science. In a classroom, students demonstrated Newton's laws of motion with makeshift ramps, extra-long rulers, and Hot Wheels cars. Buttigieg queried the students about their interests in engineering and transportation careers and encouraged them to dream big. 
"You are the future and that future is not that far away," Buttigieg said. "Of all the things that go into our transportation system, including steel, concrete, technology, engineering, the most important part of it is the talented people that keep it running." 
Last month, the Department of Transportation announced the selection of Howard University to lead a Tier 1 University Transportation Center (UTC). While on campus, Secretary Buttigieg viewed demonstrations of multiple ongoing research projects from graduate students as well as a presentation from Stephen Arhin, PhD, director of the center.   
The projects highlighted research the center is doing, in collaboration with various branches of the Transportation Department, to improve transportation safety. The projects included camera technology used by engineers to make improvements in traffic flow patterns and pedestrian safety. Buttigieg also heard from Howard undergraduates who visit local schools as ambassadors of engineering to promote STEM education.  
"Today was wonderful," said Felicia Dangerfiled-Persky, PhD, math instructional coach who led the Hot Wheels lab demonstration at the middle school. "Interactions like today's are necessary because our kids need to see how what they do here applies further out. And our political leaders need to see how the laws and policies they make affect our students. The pipeline goes both ways – and it's important that we keep that line of communication open." 
Categories
Research, Civil and Environmental Engineering and College of Engineering and Architecture