Associate Dean and Department Chair Kimberly Jones Addresses First Grand Challenge in Environmental Engineering for the 21st Century
January 10, 2019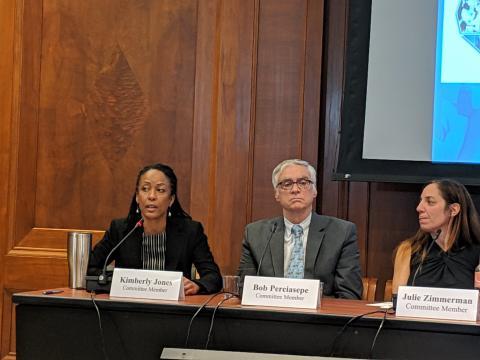 Associate Dean for Research and Graduate Studies and Civil and Environmental Engineering Department Chair Kimberly L. Jones served as a committee member for the development of a National Academies of Sciences, Medicine, and Engineering report on the "Grand Challenges and Opportunities in Environmental Engineering for the 21st Century."
The report was developed by experts to identify the biggest global challenges the environmental engineering field must address over the next several decades. The study also describes how the environmental engineering field—and colleges and universities—might evolve to better address those challenges.
Dr. Jones served as a panelist to present report findings to the general public. She specifically addressed the first grand challenge in environmental engineering for the 21st century: To sustainably supply life essentials, such as food, water and energy to a growing, global population. Currently, 800 million people worldwide are undernourished; 844 million people are without safe drinking water; 2.3 billion people are without sanitation and 1 in 7 people are without electricity.
Dr. Jones stressed the importance of collaborating with social scientists to develop a solution that will work for all.
Watch Dr. Jones' presentation (15:18)
Categories
Alumni and Civil and Environmental Engineering