Associate Prof. Robert Efimba Receives the ASCE-NCS Lifetime Excellence in Service Award
March 28, 2019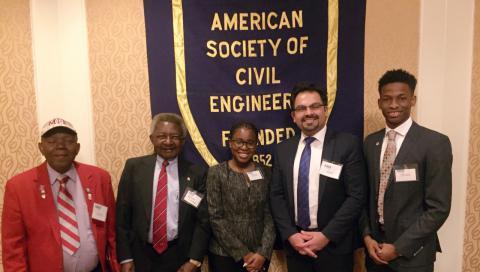 Civil and Environmental Engineering (CEE) Associate Professor Robert Efimba received the American Society of Civil Engineers National Capitol Section (ASCE-NCS) Lifetime Excellence in Service Award. The award "recognizes individual members of the Section who have made outstanding contributions to its work over their lifetime" (ASCE). Awardees are required to be active members with at least 10 years of service and to have set "a high standard of professionalism through service" (ASCE).
ASCE-NCS Vice President Kelly Cronin recognized the ASCE-NCS Howard University Chapter as the most active NCS chapter in her opening remarks at the ASCE-NCS Annual Awards Banquet. She then thanked Dr. Efimba for his countless efforts in initiating and maintaining student involvement in the chapter, as she presented his award.
Dr. Efimba was nominated for the award for his dedicated service to ASCE, including contributing much of his valuable time and expertise to public service, research and advancement in the field.
He has also been recognized for his lifetime of outstanding achievements and contributions in civil engineering by ASCE in the February 2018 issue of the ASCE National Capital Section eNewsletter.
Dr. Efimba continuously reiterates to students the importance of not only becoming a member of professional organizations, but also serving on committees in order to make lasting and meaningful impact as a civil engineer.
In addition to Dr. Efimba's receiving the Lifetime Excellence in Service Award, three of our CEE students were also recognized at the banquet.
CEE Senior Bhawesh Thapa was recognized as Outstanding Graduating Senior for his exemplary achievements. CEE Sophomore Sigmund Skinner and Junior Camille Wallace were also recognized and awarded scholarships for which they met designated criteria, such as maintaining a minimum GPA and active ASCE membership.
Congratulations to all! Wishing everyone the best of success!
(Pictured L to R: Dr. Efimba, Dr. Fomufod - Howard University Medicine, Camille Wallace, Dr. Yazdani - CEE, and Sigmund Skinner)
Categories
Civil and Environmental Engineering