Associate Professor Robert Efimba Recognized for Lifetime Achievements
March 26, 2018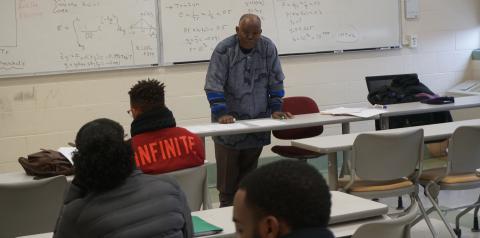 Civil and Environmental Engineering Associate Professor Robert Efimba was recognized for his lifetime of outstanding achievements and contributions in civil engineering by the American Society of Civil Engineers (ASCE) in the February 2018 issue of the ASCE National Capital Section eNewsletter. (Read the full article.)
Born in the South-West Region of Cameroon, Dr. Efimba's passion for education was only natural to him as he was begirded by his family's unceasing "search for education".
"You can say that the value and need for education was imprinted on me very early in life," Dr. Efimba emphasizes.
Dr. Efimba had effusive role models as a young man, beginning with his father "who graduated top of his class at the Buea Normal College and became one of the greatest Elementary School masters of his time in neighboring Eastern Nigeria and South-West Cameroon".
Dr. Efimba gained motivation to become a civil engineer at a young age when he "saw the need for housing, drinking water, and roads" in his South-West Cameroon village and has been thriving in the field ever since.
We congratulate Dr. Efimba and share only a modest piece of his advice to our future engineers:
"Enroll as a member of one or two professional societies, starting with student chapters while in college, and progressing immediately after graduation, and avoid a lapse in membership. Start serving on a committee as a member and advance up a Society's chain of command."
Categories
Civil and Environmental Engineering