Howard University Architecture Lecturer Nea Maloo Receives Inaugural PAVE Educator of the Year Award 
January 25, 2023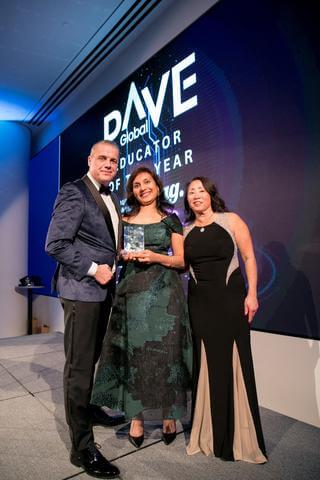 Howard University architecture lecturer Nea Maloo recently received the inaugural Planning and Visual Education Partnership (PAVE) Educator of the Year Award. Sponsored by global omnichannel marketing production agency Tag Worldwide, this new award honors the outstanding accomplishments of full-time educators and their dedication to design education. 
Nominated by industry peers, colleagues, administrators, and past students, the ideal candidate for this award consistently engages and inspires their students in new and exciting ways, seeks resources and opportunities beyond the classroom to enrich the current curriculum, demonstrates strong leadership within their department, makes significant contributions to the profession and demonstrates excellence in teaching. 
"We are so excited to announce our first PAVE Educator of the Year Award recipient Nea Maloo from Howard University. We can't wait to celebrate with Nea at the PAVE Gala! We also want to recognize and thank the other candidates as well for their dedication to our future Designers," said Cindi Kato, Principal, Global Retail Practice Area, CallisonRTKL, and PAVE's Immediate Past President.  
Maloo received many letters of support, including a letter from Etana Sesay, a fifth-year Howard University Master of Architecture student.  
"From participating in Howard University's first Solar Decathlon team to having the opportunity to enroll in a Building Decarbonization summer course, I can now say, with confidence, that I have been equipped with the necessary tools to make a genuine impact when stepping foot into the field of architecture. I owe all my thanks to Howard University's Architecture Department for molding me into the professional I have become. But more specifically, I owe my empathy, discipline, and ambition to make a difference to Professor Maloo," wrote Sesay. 
With a strong focus on environmental justice and sustainable architecture, Maloo is also recipient of the 2022 Association of Collegiate Schools of Architecture Course Development Prize issued in collaboration with the Columbia University's Temple Hoyne Buell Center for the Study of American Architecture. Her winning course proposal, Environmental Justice (EJ) + Health + Decarbonization, will be offered beginning this semester, along with her newly developed Equitable High-Performance Buildings course.  
Through the development of Equitable High-Performance Buildings, a new interdisciplinary course to teach the critical skills needed for sustainable design, climate change mitigation and equitable development, Maloo initiated the designation of the U.S. Department of Energy's Zero Energy Design Designation for the Howard University Master of Architecture program. 
Watch the CBS special on how the Howard University architecture program is helping to reduce buildings' carbon footprint. 
Read more about the 2022 Association of Collegiate Schools of Architecture Course Development Prize and the U.S. Department of Energy's first-ever Zero Energy Design Designation.  
Categories
Architecture and College of Engineering and Architecture