Howard University Architecture Professor Hazel R. Edwards Receives 2022 Architectural Record Award
December 7, 2022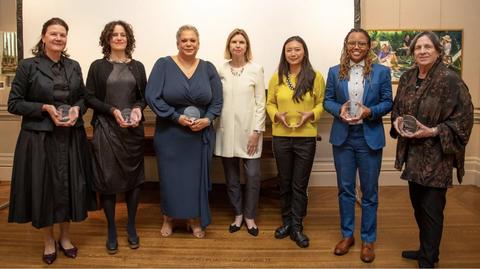 Howard University architecture professor Hazel Ruth Edwards, PhD., FAICP, (B.Arch. '86) recently received Architectural Record's 2022 Women in Architecture Design Leadership Award in the category of educator.
Now in its ninth year, the leading architectural news outlet's award program honors women architects who break barriers and lead their field into a newly designed equitable and sustainable future. Across the five categories of design leader, new generation leader, innovator, educator, and activist, this year's winners represent leadership, research and practice with more depth and diversity.
"We are training people for a field that impacts so much of our lived experience, yet this is often done through limited perspectives.  Architectural pedagogy has to better represent the diverse voice of those who have impacted our communities, as well as those who are affected by those places," said Edwards.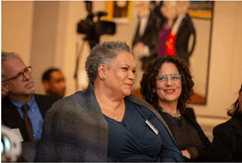 Edwards believes it is essential to train students to understand the history of places and the sequence of events leading to present conditions—this includes social, cultural, legal, economic, and environmental issues.
Accomplished in her field, Edwards returned to Howard University in July 2016 as full professor of architecture and chair of the Department of Architecture in the College of Engineering and Architecture (July 2016-June 2022). As the first woman to hold either position at Howard University, Edwards has worked throughout her career to increase diverse voices in the profession. Last year, President Joseph Biden appointed Edwards to the U.S. Commission of Fine Arts, where she serves as the first African American woman vice chair.
In June 2022, after six successful years as department chair, Edwards decided to dedicate more time to teaching, continue with her research on historically Black university campuses and the NASA-funded project and refocus her attention from administrative duties to increasing the voices of women in the design and city planning disciplines. Much of her career has been spent teaching in architecture and city planning programs where she has prepared many young people of color to fearlessly explore their creative pursuits.
"I cannot think of a more deserving recipient of the educator award. As department chair, Dr. Edwards worked with the faculty to modernize the curriculum and expand the architecture program, significantly increasing overall enrollment and retention. She worked tirelessly to ensure that graduates from the program were prepared not just to succeed but to excel in their careers. Her success in growing the program and providing excellent opportunities for architecture students leaves a strong legacy from her leadership," said Kimberly L. Jones, Ph.D., BCEE, F. AEESP, Howard University associate provost for faculty affairs.
Past recipients of the educator award category include the deans of architecture schools at Yale University, University of Pennsylvania, Harvard University, Princeton University, University of Miami, and Tulane University, as well as a Massachusetts Institute of Technology architecture department chair who later became dean of the College of Architecture, Art and Planning at Cornell University.
Pictured:
Architectural Record editor-in-chief Cathleen McGuigan (center); 2022 Women in Architecture Award winners (from left to right) Alison Mears, Jonsara Ruth, Hazel R. Edwards, Jing Liu, Monica Rhodes, and Carol Ross Barney. 
Photo credit: Kristen Blush for Architectural Record
About Architectural Record
Founded in 1891, Architectural Record continues to be the number one source for news and information about architecture and design. Throughout its 130 years, the award-winning publication has fostered readership among architecture, engineering, and design professionals by covering noteworthy and innovative projects in the United States and across the globe.
Categories
Alumni, Architecture and College of Engineering and Architecture