Ph.D. Student Justin Drummond Receives Prestigious ITS MD 2021 - 2022 Student Scholarship
November 2, 2021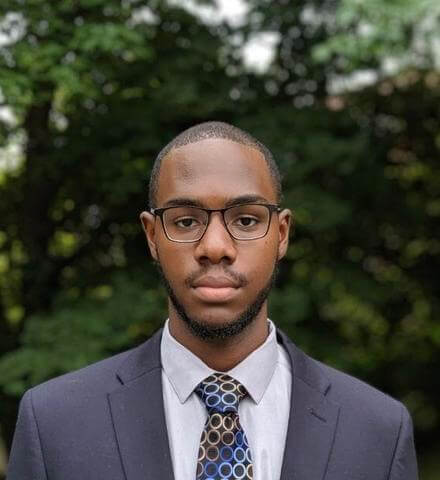 Civil and Environmental Engineering Ph.D. student Justin Drummond has been selected as a recipient of the prestigious Intelligent Transportation Society of Maryland (ITS MD) 2021 - 2022 Student Scholarship. The scholarship is awarded to full-time undergraduate or graduate students pursuing careers in the field of intelligent transportation. Recipients must attend a university or college in Maryland, Delaware, or the District of Columbia and are selected on the basis of merit, recommendations from the transportation community, as well as financial need.
The chair of the ITS MD 2021-2022 Scholarship Committee and former president Mr. Robin Fish was excited to announce Drummond as a recipient of the scholarship, hoping it will assist him in the pursuit of a Ph.D. Mr. Fish also encouraged him to continue striving to advance the transportation community through his educational endeavors.
"I am extremely grateful to be awarded this scholarship, it was timely and much needed for the current season of life I am in. I am also thankful for my supervisor Dr. Md Sami Hasnine for informing me of this scholarship opportunity as well as taking me under his wing in transportation research," said Drummond.
Over the past year, Drummond has been conducting research under the supervision of Md Sami Hasnine, Ph.D., assistant professor of civil and environmental engineering in the Howard University College of Engineering and Architecture. The focus of his research has been on the effects of the COVID-19 pandemic on transportation mode choice and online and offline shopping behaviors. Drummond plans to continue researching in the area of transportation mode choice as it relates to emerging modes of transportation such as autonomous vehicles, flying taxis, and hyperloops.  
A Spring 2021 summa cum laude Howard University graduate with a BS in civil engineering, Drummond is pursuing his Ph.D. in transportation engineering at Howard University. Drummond is a member of the inaugural cohort of the Karsh STEM Scholars Program at Howard University, a competitive scholarship program that prepares students for research careers. As an undergraduate, he also served as the president for Chosen Christian Mentorship Organization for two years.
Categories
Civil and Environmental Engineering and College of Engineering and Architecture