Associate Professor Stephen Arhin Named ITE Fellow
February 19, 2019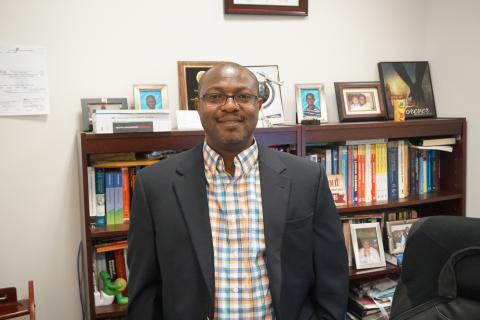 Civil and Environmental Engineering Associate Professor and Howard University Transportation Research Center (HUTRC) Director Stephen Arhin has been elected Fellow of the Institute of Transportation Engineers (ITE). Dr. Arhin's nomination was supported by ITE Fellows from industry, academia and government positions. The ITE confers the Fellow grade of membership on worthy candidates to recognize their outstanding engineering achievements, including at least ten years of professional experiences. Candidates must also have attained Board-determined "significant professional stature", had "responsible charge of important transportation engineering or transportation related work, including scientific, educational and managerial activities", and "demonstrated an active commitment and contribution to the work of ITE and the profession" (ITE).
Dr. Arhin has been a dedicated member of ITE for the past 20 years. He has made significant contributions to his field with basic, innovative and applied research. Over the years, he has been granted an annual average of at least 1.5 million dollars in research funding from the U.S. Department of Transportation, Federal Motor Carrier Safety Administration, Federal Highway Administration, the District Department of Transportation, and the DC Metropolitan Police Department, among others.
Dr. Arhin's research focus has primarily been in Transportation Systems and Infrastructure Analyses, Traffic Operations and Safety, Traffic Modeling and Simulation, Crash Data Analysis, Systems Engineering, Highway Design and Operation, Intelligent Transportation Systems, Autonomous Vehicles and Project Management. His record of grants and research contracts is matched by several refereed publications and conference proceedings in journals and international conferences.
Dr. Arhin holds a Sc.D. in transportation safety engineering from George Washington University, a M.Eng. in transportation engineering from Howard University, and a B.Sc. in civil and environmental engineering from the University of Science & Technology in Ghana. He is also a registered Professional Engineer (P.E.) in DC, MD and VA, a Professional Traffic Operations Engineer (PTOE), a Project Management Professional (PMP), and a Certified Research Administrator (CRA).
Categories
Civil and Environmental Engineering