Diaz-Caez Awarded Department of Defense SMART Scholarship
April 22, 2021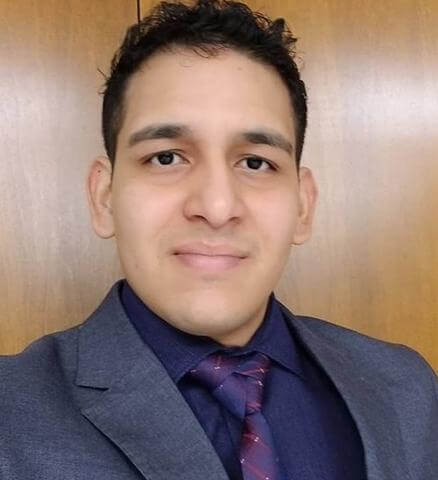 Washington DC, Howard University - Electrical engineering Ph.D. student Christian Diaz-Caez was awarded the Department of Defense Science, Mathematics, and Research for Transformation Scholarship.
This award provides students with full tuition for up to five years, summer internships, a stipend, and full-time employment with the Department of Defense (DoD) after graduation. This unique opportunity offers students hands-on experience at one of over 200 of the nation's most innovative laboratories across the Army, Navy, Air Force, and larger Department of Defense. During summer internships, SMART Scholars work directly with an experienced mentor, gaining valuable technical skills. After graduation Diaz-Caez will work at National Geospatial-Intelligence Agency (NGA) in Virginia.
Diaz-Caez is currently pursuing a Ph.D. in electrical engineering with expected degree completion in Fall 2022. His research has a special focus on Applied and Computational Electromagnetics. Diaz-Caez said, "This program will support me as I complete my dissertation and research in Computational Electromagnetics towards a Ph.D. in electrical engineering. I am very grateful to the NGA for their confidence in me, and I am excited to be a part of their team. During this appointment, I will have the privilege of working with novel technologies, helping to design and analyze complex algorithms. I will use my skills to create the systems and tools that will be used to enhance the operation of intelligence, supporting the DoD mission of safeguarding military personnel and maintaining the security of the country. I am also thankful to my research advisor, Dr. Su Yan, for his constant guidance, support, and the opportunity to be trained in his research group."
The Department of Defense is the largest employer of scientists and engineers in the nation, with nearly 300,000 STEM professionals. For over a decade, SMART has trained a highly skilled STEM workforce that competes with the evolving trends of industry to support the next generation of science and technology for our nation.
For more information on the SMART Program or to learn how students can apply, please visit www.smartscholarship.org. The application is open annually from August through December.
###
ABOUT THE SMART PROGRAM
The SMART Scholarship-for-Service Program is a combined educational and workforce development opportunity for bachelor's, master's, and Ph.D. students to gain technical skills in critical STEM fields and support the national security mission of the Department of Defense.
Contact:
Categories
College of Engineering and Architecture and Electrical Engineering and Computer Science