Howard University Architecture Assistant Professor Dahlia Nduom Receives AIA|DC 2022 Architect Educator Award
February 14, 2023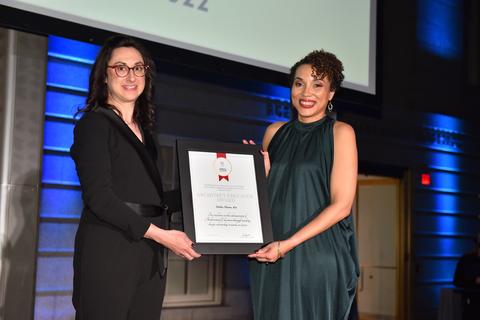 Howard University architecture assistant professor Dahlia Nduom recently received the AIA|DC 2022 Architect Educator Award sponsored by the Washington Architectural Foundation. The Washington chapter of the American Institute of Architects through its Architect Educator Award recognizes an individual or organization for excellence in the advancement of architectural education through teaching, design, scholarship, research, or service.
"I am honored and humbled to receive this award in recognition of my dedication to teaching, research, and service at Howard University.  This award validates my research, which focuses on the underrepresented architectures of the African Diaspora in architecture academia.  I wouldn't have received this award without the amazing students in the Department of Architecture, whom I have had the pleasure of teaching since joining Howard in 2017.  They inspire me daily, bringing passion and activism to their design work," said Nduom.
Nduom's work has been focused on how architecture can address social justice issues through education. Recipient of the 2022 Graham Foundation for Advanced Study in the Fine Arts Grant for her archival research of the architectural morphology of tourist and non-tourist spaces in Jamaica, Nduom was selected as one of 56 researchers from a pool of nearly 500 submissions from around the globe.
Through the Graham Foundation Grant, Nduom continues her research on the legacy of colonial and tourism consumption and the role architecture has played in imagery used to construct a tropical ideal.
In Fall 2021, Nduom's research work on the intersection of history, culture and traditional building practices in contemporary Ghanaian architecture was selected and on display at the ArchiAfrika Pavilion in the New Blood 2021 Exhibition in conjunction with the European Cultural Centre's Time Space Existence exhibition, a collateral exhibition at the 17th International Architecture Exhibition, La Biennale di Venezia in Venice, Italy.
Together with Howard University architecture faculty and selected architecture students, Nduom was part of a seven-university team funded by a $15 million NASA grant (2019-2021). The grant establishes the Habitats Optimized for Missions of Exploration (HOME) Space Technology Research Institute for Deep Space Habitat Design, one of two space technology research institutes selected by NASA in 2019. The project aims to support and sustain human presence in space.
Watch Dahlia Nduom, AIA - Architect Educator Award, 2022 on YouTube.
Read more about the 2022 Graham Foundation for Advanced Study in the Fine Arts Grant, the New Blood 2021 Exhibition display and the NASA smart habitat research grant.
Photo credit: Washington Architectural Foundation
Categories
Architecture, Research and College of Engineering and Architecture