Professor Emmanuel Glakpe Named ASME Fellow
May 4, 2018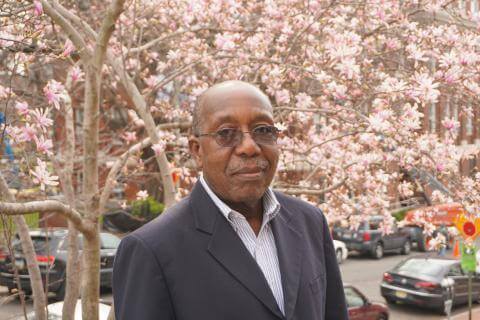 Professor of Mechanical Engineering Emmanuel Glakpe has been elected American Society of Mechanical Engineers (ASME) Fellow after nomination from Mechanical Engineering Department Chair Nadir Yilmaz. Dr. Glakpe's nomination was supported by ASME Fellows from within academia, industry and government positions.
The ASME Committee of Past Presidents confers the Fellow grade of membership on worthy candidates to recognize their outstanding engineering achievements. Nominated by ASME Members and Fellows, an ASME Member has to have 10 or more years of active practice and at least 10 years of active corporate membership in ASME.
As a Fellow of ASME, Dr. Glakpe has made significant contributions in global engineering education and R&D at Howard University over the last 35 years. His outstanding teaching has been recognized through numerous awards from the ASME student chapter and industry-supported institutional awards for teaching excellence. Dr. Glakpe is a two-time recipient of the Amoco Foundation Award for Teaching Excellence at Howard University. He has mentored numerous students who proceeded to obtain advanced degrees at other institutions including Stanford, MIT, University of Maryland, Georgia Tech and University of Illinois. He has made contributions in the development of computational methods to study convective heat transfer in irregular geometries and for research in the characterization of Thermal-State-of-Charge in space solar receiver systems. A registered professional engineer (PE) in the District of Columbia, Dr. Glakpe served as Associate Dean of the Graduate School at Howard University from 2002 until 2006. He holds memberships in a number of professional societies including the ASME and the ASEE.
Dr. Glakpe has been involved in a number of outreach activities since his appointment as a faculty member at Howard University. He has been a volunteer mentor in the Montgomery County School System in Maryland; he has been invited to speak to K-12 students on career paths in engineering and on the role of engineers in society. He tutors middle and high school students in the Emory Grove community of Gaithersburg. Globally, Dr. Glakpe has assisted in organizing international conferences on engineering education. He received a Bayer Best Paper award for a presentation on engineering education in an international symposium in China, 2006. Recently, he was awarded a Carnegie Foundation Fellowship in which he spent the early weeks of summer 2017 as a visiting faculty member at the University of Johannesburg to learn and share ideas on best practices of engineering education in a global environment.
Founded in 1880 as the American Society of Mechanical Engineers, today's ASME is a 130,000-member professional organization focused on technical, educational and research issues of the engineering and technology community. ASME conducts one of the world's largest technical publishing operations, holds numerous technical conferences worldwide, and offers hundreds of professional development courses each year. ASME sets internationally recognized industrial and manufacturing codes and standards that enhance public safety.
Categories
Mechanical Engineering